VLM-1
1/32 Slot Car
Legendary Box
Austro Daimler "Sascha"
13ª Targa Florio, 2 April 1922
| # 1 – Alexander Kolowrat | # 2 – Lambert Pocher | # 3 – Fritz Kuhn | # 46 – Alfred Neubauer |
| --- | --- | --- | --- |
| 1.100 · Abandono · Rompe Motor | 1.100 · 2º Cat. 24º Gen. ⊗ 8.41'41" | 1.100 · 1º Cat. 22º Gen. ⊗ 8.19'46" | 1.500 · 5ºCat.Corsa · 19º Gen. ⊗ 7.49'06" |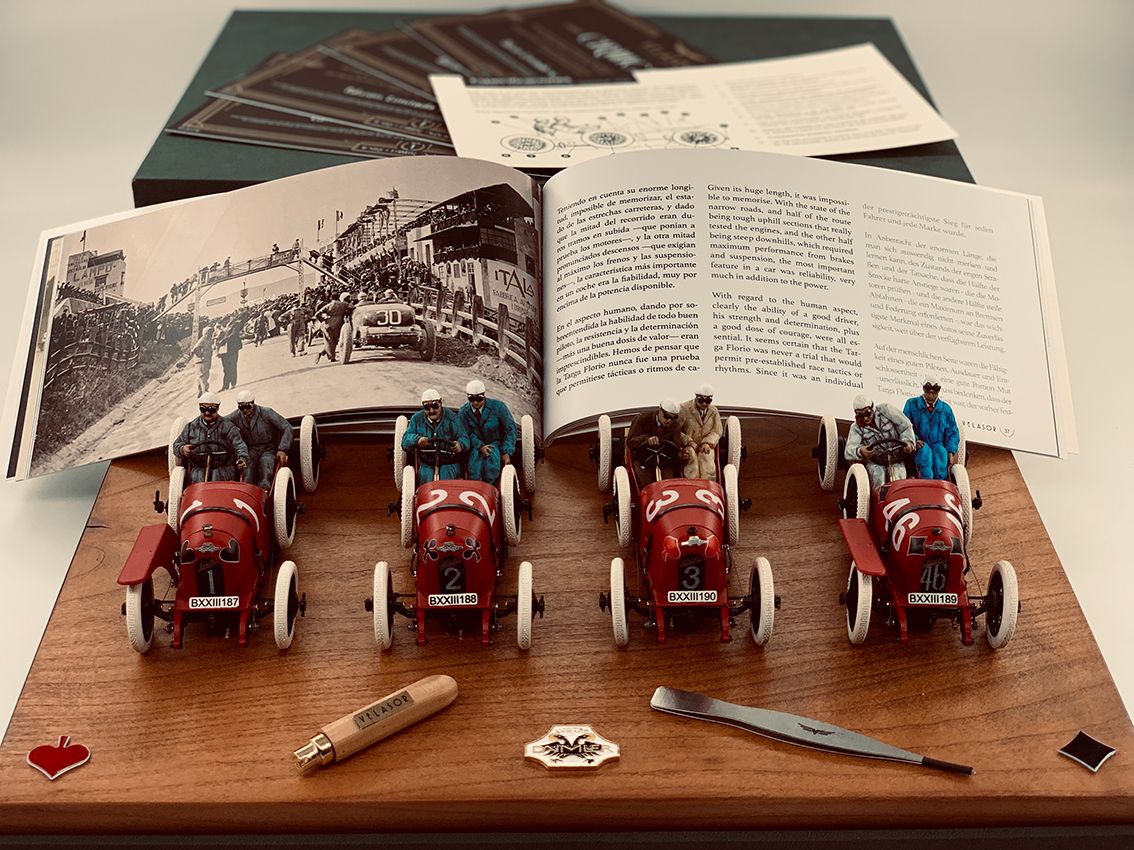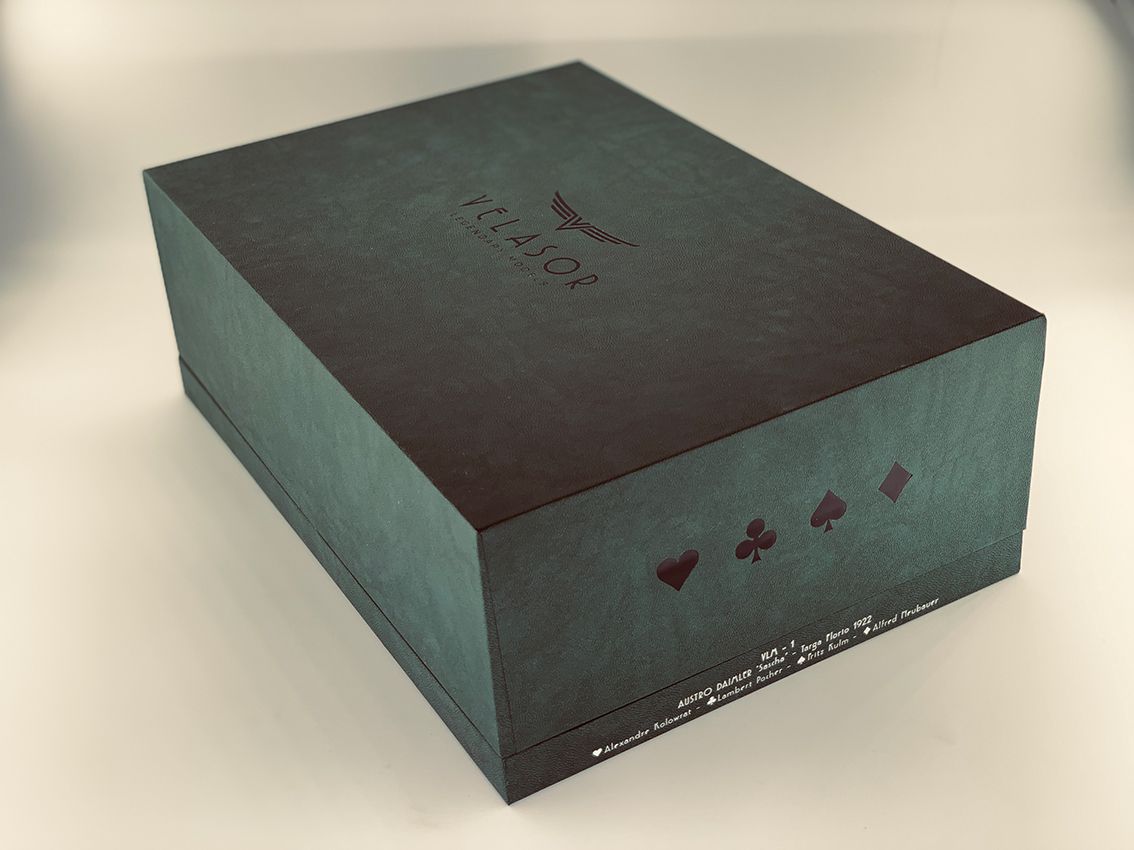 ADS-R
It all started with "Sascha", the Russian diminutive of Alexander and the nickname by which his friends knew Count Alexander Kolowrat-Krakowsky. Apart from being regarded as the forerunner of the Austrian film industry, it was he who came up with the idea of making a small racing car: the first sports car that Ferdinand Porsche built in 1922 for Austro-Daimler and which he would name "Sascha" in his honour.
This vehicle was the pinnacle of Ferdinand Porsche's work as technical director of the Austrian company Austro-Daimler. Above all, the valve system could be considered a technical feat: thanks to two camshafts mounted on the cylinder head by a central axis, with just over a litre of displacement (1,089 cm³), the small four-cylinder reached 45hp, which allowed it to exceed 140km/h. A real milestone in the early 1920s.
With a total weight of less than 600 kilograms, the compact racing car had a sensational specific power (power-to-weight ratio). Thanks to this, the Sascha was perfect for courses with many curves, such as the famous Targa Florio of Sicily. There, in 1922, four Sascha prototypes of the official Austro-Daimler team took part, achieving a double victory in the 1.1 litre category after covering 432 kilometres. The efficient racing cars left half of the competitors behind, some of them with more than seven litres of displacement.
1/32 ADS-R Specifications:
This ADS-R is a faithful reproduction of the first version of this legendary car from 1922. It is built by hand and assembled with more than 200 pieces made from different materials, such as resins, metals, leather and wood, and is customised using different techniques such a moulds, 3D printing, laser cutting and engraving, photoengraved metal and turned parts. Finally, these are assembled by hand, thus putting together the 1st Velasor reference.
Here we will mention the different details and moving parts:
1.- Rotating hand crank.
2.- Radiator cap that can be turned to achieve two positions, retracted and deployed.
3.- Engine with the moveable ventilation propeller.
4.- Opening engine hood, held in place by a strap that can be removed and adjusted with the buckles.
5.- Detailed chassis with the fuel tanks and different braking cables.
6.- Functional front and rear suspension leaf springs.
7.- Front and rear moveable shock absorbers.
8.- Front and spare wheels with central threaded nut, removable using the 'VC1' wrench.
9.- Movable back box, with flexible closure and rollable leather case for tools.
10.- Interior of the cabin with oil pressure mark, operable pedals and hand brake lever.
11.- Removable mudguard.
12.- The figures, painted by hand, are a faithful reproduction of the real people who raced with the "Sascha".
Technical details:
Model nº.:
1 / 2 / 3
46
Engine
4 Cil.
Twin cam,8 valves
4 Cil.
Twin cam,8 valves
Displacement
1,089 cc.
1,498 cc.
Bore x Stroke
68 x 75
72 x 92
Maximum output
50 HP / 5000 rpm.
50 HP / 5000 rpm.
Gearbox
4 speed
4 speed
Brakes
4 wheels
4 wheels
Wheelbase
2,489 mm
2,489 mm
Track
1,270 mm
1,270 mm
Curv Weighy
598 kg
600 kg
Top Speed
135 km/h
145 km/h